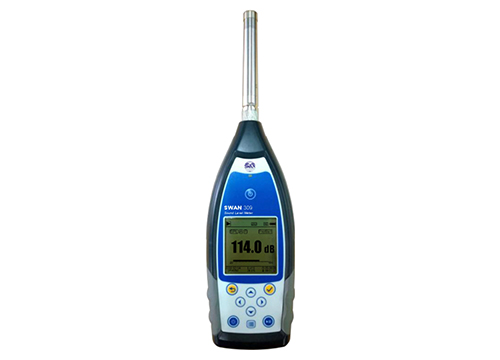 Area Sound Level Meters
SWAN 308/309 are octave sound level meters updating the dual-core (DSP+ARM) architecture to single chip ARM with float point unit, and updating all fix-point calculation to float-point, which significantly improves the accuracy and stability. Re-design analog front end circuit also lower the noise floor and linear range of product. SWAN 308 is Class 1 and SWAN 309 is Class 2.
Class 1 (SWAN 308) and Class 2 (SWAN 309) sound level meter
Comply with IEC 61672-1:2013, ANSI S1.4-1983 and ANSI S1.43-1997
1/1 Octave in accordance with IEC 61260-1:2014 and ANSI S1.11-2004
Linearity range: 20dBA~139dBA (SWAN 308), 20dBA~139dBA (SWAN 309)
Single range to cover 123dB/122dB dynamic range
Frequency weighting: A/B/C/Z. Time weighting: Fast/Slow/Impulse
3 profile calculation in parallel with different frequency/time weighting. 14 custom define measurement
Calculate SPL, LEQ, Max, Min, Peak, SD, SEL, E
LN statistics and time history curve display
User define integral period measurement, integral period up to 24h
High speed ARM core with FPU (Float Point Unit) to achieve wide frequency response, large dynamic range and low noise floor
4G MicroSD card (TF card) mass storage
RS-232 remote control port
Mini thermal printer for measurement data print
Internal GPS module (option), support GPS timing.
Basic noise measurement
Environmental noise assessment
Product quality check
Evaluation of noise reduction engineering