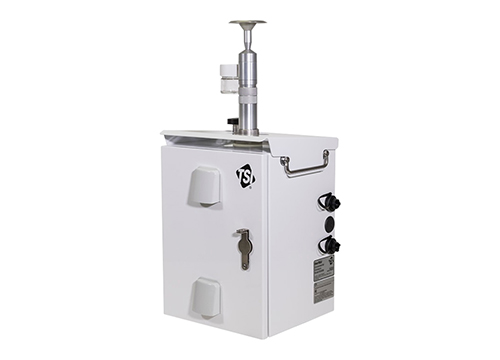 Real-Time Particulate Monitor
The DustTrak Environmental Monitor is an air monitoring system built to house DustTrak photometer models 8540 or 8543. DustTrak's early detection features allow quick response to exposure concerns. This system is built upon proven DustTrak technology that thousands of people use every day.
The DustTrak environmental monitor is a real-time supplement to Federal Reference Method (FRM) data collection that can be deployed remotely quickly. It is on the South Coast Air Quality Management District pre-approved list of instruments for Rule 1466.
Simultaneously measure size-segregated mass fraction concentrations corresponding to PM1, PM2.5 Respirable, PM10 and total PM size fractions
Minimal set-up
New tri-pod mount capability
Easy to use custom alarm settings for alerts anytime, anywhere
Perform in-line gravimetric analysis for custom reference calibrations
Aerosol concentration range 0.001 to 150 mg/m 3
Environmentally protected and tamperproof with environmental enclosure
Cloud Data Management System for efficient remote monitoring anywhere
MCERTS certified models now available for PM2.5, PM10 and total PM, respectively
Outdoor environmental monitoring
Monitoring for a Community Air Monitoring Plan (CAMP)
Fugitive emissions monitoring
Site perimeter monitoring
Brownfields/remediation monitoring
Fence-line monitoring
Dust control operations
Environmental research studies
Construction site monitoring
Harsh industrial environmental monitoring
Urban pollution studies