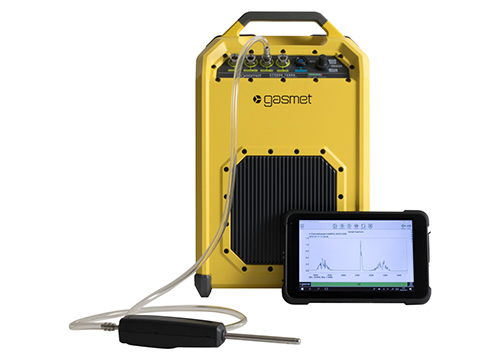 Splashproof Multigas Ambient FTIR Analyzer
GT5000 Terra is embraced by professionals working in various settings, ranging from worksite exposure monitoring to greenhouse gas measurements in challenging weather conditions. Terra excels in demanding situations where portability needs to be coupled with extremely high accuracy. Also, it looks pretty neat.
A next-generation gas analyzer combining high technology with ease of use and true robustness.
It is lightweight and compact. Can be easily carried to the field as a backpack with minimum effort.
Splash-proof IP54 rated. Few raindrops will not disturb your outdoor field measurements.
Based on Fourier Transform Infrared spectroscopy (FTIR) technology.
Simultaneous measurements of up to 50 gases.
Ability to measure 300+ gases and even wider concentration ranges than before
Adding new gases is easy and affordable, no hardware changes needed
Ability to identify unexpected gas components
Internal battery and sample pump
Wireless connectivity
Remote operability
One-click measurements and immediate online results
DX4015 – Portable analyzer with heated sample cell for humid conditions model also available.
Industrial hygiene & exposure monitoring,
Confined space monitoring,
Shipping container monitoring,
Anesthetic waste gas monitoring,
HAZMAT & first response monitoring,
Greenhouse gas flux measurements in various ecosystems