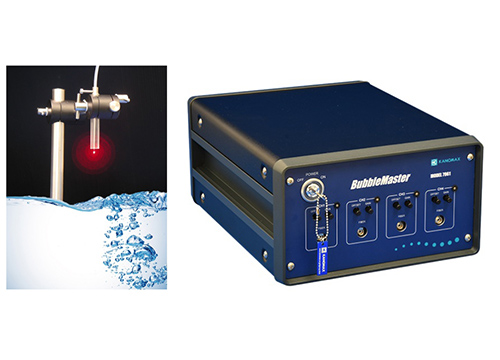 Bubble Master
Void fraction measurement and simultaneous measurement of velocity and diameter of bubbles in a gas-liquid two-phase flow
The BubbleMaster is an instrument to measure gas-liquid two-phase flows with optical fiber sensors. It measures not only time-averaged void fraction, but also detects individual bubble size and velocity using reflected light intensity technology that changes when a bubble penetrates through the tip of the wedge-shaped optical fiber.
Three types of sensor tip, called S-TOP, T-TOP and F-TOP, made of quartz are available. The intrusive approach of the BubbleMaster enables to measure even at a higher void fraction of over 1 %, which cannot be realized by a non-intrusive optical method.
The BubbleMaster software acquires samples from individual bubbles, which signal amplitude can be monitored on the software display. As analysis results, histogram of bubble velocity and diameter, void faction, averages and standard deviation can be obtained with the T-TOP and F-TOP sensor.
Measurable even at a higher void fraction of over 1 %
Simultaneous measurement of bubble velocity and diameter
Applicable to nonconductive fluid as well
Option of plastic fibers or heat and pressure resistant types available (S-TOP / T-TOP)
Fundamental researches of nuclear reactors
Cavitation research, f. e., bubble sizes, velocity
Void fraction control in bubble columns
Efficiency validation of chemical process
Gaseous diffusion in a solution, f. e., of bio reactors