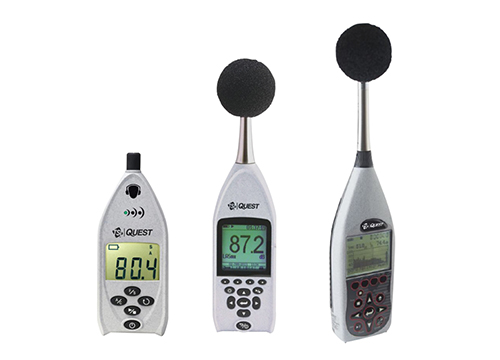 Sound Level Meters
TSI Quest Sound Level Meters make it easy to document and analyze noise exposure across variable environments and octave bands. User friendly and intuitive, our versatile line of instruments fit any sound measurement need, including an intrinsically safe option for hazardous environments.
Sound Detector, SD-200:
Simple four-button navigation to perform all functions. Comes ready to take measurements; no configuration necessary.
Meets applicable ANSI and IEC Class 2 standards. Consistent performance with accurate, actionable readings.
Integrating feature computes the average sound pressure level. Provides stable readings where noise levels typically vary, for easier interpretation.
Tri-color LEDs flash brightly when preset noise levels are reached. Helps user understand where hearing protection may need to be worn. Green LED flashes when noise measurements are between 80 and 85 dB. Yellow LED flashes when noise measurements are between 85 and 105 dB. Red LED flashes when noise measurements are above 105 dB.
Lithium polymer battery provides up to 50 hours of use between charges. Reduces the cost and hassle of replaceable batteries.
Sound Examiner, SE-400 Series:
User can specify microphone type (Class/Type I or Class/Type II) based on application. Select Type II for general duty, Type I for applications requiring higher accuracy.
Preamp can be easily removed to enable interference-free low-level monitoring, especially for remote use.
Minimizes disturbance to sound fields being measured, ensuring accurate readings.
Allows user to capture maximum, minimum and peak values at intervals down to 1 second for thorough analysis. Can be used with TSI Quest Detection Management Software to manage compliance with hearing conservation programs.
Meets IEC 61672-1 (2002) and ANSI S1.43-1997 (R2007) standards and is CE certified. Intrinsic Safety approvals on SE-401-IS and SE-402-IS.
Offers a variety of functionality allowing the ability to intuitively interpret measurements and generate reports for export and sharing of results.
Sound Pro, SE-DL Series:
ANSI and IEC standards compliant
Available in Class/Type 1 Precisions or Class/Type 2 General Purpose models
Two "virtual" sound level meters running simultaneously
Concurrent A-weighted and C-weighted measurements
Programmable and level-triggered start and stop
A, C and Z (flat) frequency weighting
Fast, slow, and IEC impulse time response
Selectable thresholds 10 dB – 140 dB
3, 4, 5, 6 dB exchange rates
Luminescent keypad and backlit display
SD memory card slot
USB communications port and serial RS-232 output
Display adjustable among multiple languages
Time history data logging with 1 second to 60 minute intervals*
Back erase function
Noise dose calculation/dosimetry function
Occupational noise evaluations
Environmental noise assessments
General sound and frequency analysis
Vehicle noise evaluations
Building acoustics
Mobile equipment evaluations