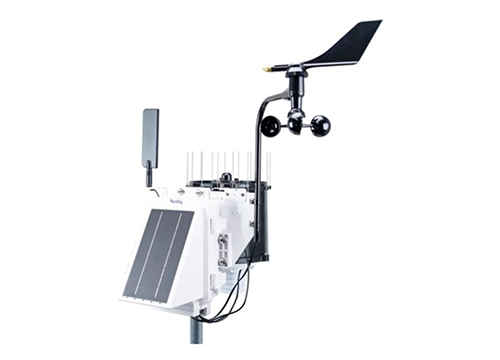 Automatic Weather Station
The fully integrated WatchDog 3250 Wireless ET Station measures temperature, humidity, rainfall, and wind speed/direction. It records and communicates the data to the cloud using its internal modem or radio. With these sensors, evapotranspiration (ET) can be computed by SpecConnect, indicating the amount of water leaving your field.
Integrated Solar Power system for reliable power.
Integrated Modem/Radio for reliable communications: available with a choice of cellular modems or other radios.
Integrated Data Logger protects your data, holds over 18 months of data at a 15-minute recording interval and data can be transferred to a USB flash drive.
Easy to install - start measuring in minutes! Mounts to a 1.25 inch mast, u-bolts included.
Bluetooth connectivity to your Apple or Android smartphone running the free WatchDog Mobile App speeds setup and displays current conditions - data at your fingertips to better plan your day!
Sends data to the SpecConnect Cloud Solution - View current conditions or historical data using a broad selection of analytical reports from anywhere in the world.
Receive alerts via automated phone call, text message, and/or email immediately when temperature crosses your selected threshold - no waiting for the next scheduled upload.
Customizable with plug-in sensors to meet your needs
Receive the latest changes with over-the-air updates (also available via a USB flash drive)
The durable enclosure provides moisture, corrosion, and UV protection for increased reliability in harsh environments
Environmental Monitoring
To effectively irrigate crops for optimum yield.