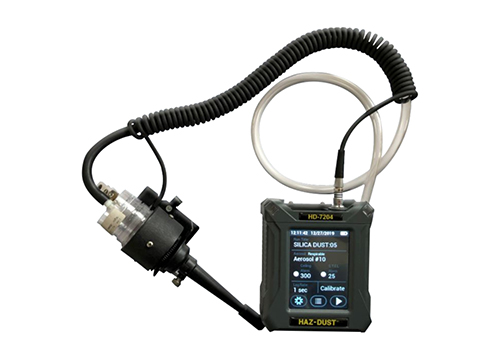 Personal Real Time Dust Monitor
Offers a flow compensated pump for compliance monitoring. The days of requiring two devices and co-locating a FRM filter cassette and real-time reading instrument are over! It offers a flow compensated pump with real-time capability. The sensor, which is mounted in the OSHA defined breathing zone, is sandwiched between the sampling inlet and a FRM filter cassette option.
Flow compensated pump.
An optical sensor mounted in the OSHA defined breathing zone.
Accepts any standard 27 or 25mm pre-loaded filter cassette.
Validated sampler meets the ISO 7708 Standard.
Easy to clean optical sensor with calibration span verification.
On screen programing for creating a unique aerosol library and data sets.
Applications requiring a compliance monitor – including the new OSHA regulation on silica.
Evaluating work practices and controls
Air quality studies in occupational health and Industrial Hygiene
Safety Audits
Welding fume exposure