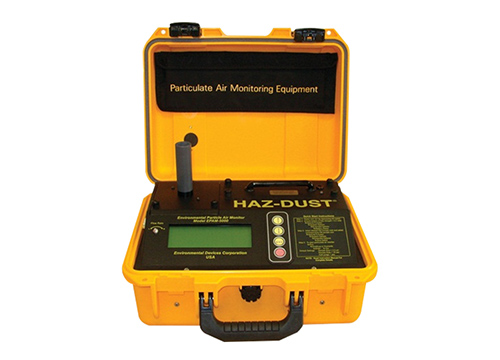 Portable Environmental Particulate Air Monitor
The EPAM-5000 portable environmental PM monitor provides real-time determinations and data recordings using interchangeable size-selective impactors for PM10, PM2.5, and PM1.0; measures TSP without impactor.
The Haz-Dust EPAM-5000 is a portable microprocessor based particulate monitor suitable for ambient, environmental, and indoor air quality investigations and baseline surveys. Highly sensitive, this monitor uses light scattering to measure particle concentration and provide immediate real-time determinations and data recordings of airborne particle concentration in mg/m3 .
Interchangeable size-selective impactors allow PM10, PM2.5, and PM1.0 monitoring; TSP measuring does not require an impactor.
The EPAM-5000's unique aerodynamic particle sizing and 47-mm in-line filter holder loaded with appropriate filter provide concurrent gravimetric sampling. Sample for up to 24 hours on one battery and store up to 15 months of monitoring data. Download and store sampling data on a PC for further analysis using included DustComm Pro Software. Trend analysis and reporting can also be generated. The EPAM-5000 offers a network software option for Windows.
Fast, easy setup
Highly sensitive: 0.001 to 20.0 mg/m3 for particles 0.1 to 100 μm ; Optional 0.01 to 200 mg/m3 and 0.10 to 2000 mg/m3 ranges available
Highly accurate: Accuracy ± 10% filter gravimetric SAE fine test dust
Ideal for saturation sampling
Internal 4 L/min sample pump
Unique aerodynamic particle-sizing real-time sensor: Optional EPA FRM-style cassette holder for gravimetric reference
Immediate display and data storage
Internal temperature compensation for ambient use
Interchangeable size-selective impactors for EPA parameters: PM10, PM2.5, and PM1.0; measures TSP without impactor
Rechargeable lead-acid battery for up to 24-hour operation: Continuous monitoring with AC adapter
Easy four-key menu driven operation
Stores up to 15 months of data: RS-232 digital output
DustComm Pro data analysis/reporting software included
Portable and compact
Real-time clock and data display
90-dB alarm siren
Temperature controlled enclosure accessory available
Quantifying off-site particulate migration
Surveying for PM2.5, PM10, and PM1.0
Monitoring dust generation during drilling and excavation
Evaluating dust suppression and engineering controls
Locating and identifying "hot spots"
Emergency response and fugitive emissions compliance
Determining level of respiratory protection
Survey of workplace for OSHA/EPA compliance
Evaluating worker exposure to airborne contaminants
Dust collector/ventilation system checks
Monitoring lung-damaging particles in factories and buildings