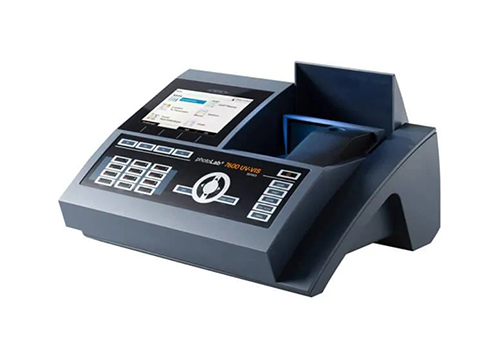 UV-VIS Spectrophotometer
The UV-VIS Spectrophotometer is suitable for universal use, from well-proven routine analysis to spectral analysis, with pioneering procedure reagent-free measurement of COD, Nitrate and Nitrite. Furthermore, important parameters such as UVT and SAC as well as comprehensive color measurement are supported.
Supports the fastest and affordable routine analytics by using barcoded test kits and round and rectangular cuvettes just like the VIS Spectrophotometer.
Wavelength range 190~1,100 nm
Xenon flash lamp
Barcode support and automatic cuvette recognition
Standard methods such as UVT, SAC, coloration or chlorophyll
More than 250 methods are available for water analytics, galvanics and general lab analytics.
Comprehensive programming opportunities
Optical Reagent-free measurement technology (OptRF) for standard parameters COD, NO3, NO2 in the outlet of sewage plants
Faster than the fastest digestion
No costs, as no reagents or chemicals required
Environmentally friendly and no health hazards
Spectra and Kinetics measurements
Top reliability due to menu guided comprehensive Analytical Quality Assurance - AQA
USB and Ethernet-connections for easy update, print to PDF or printer, storage and data export
Environmental parameters such as chlorophyll and application procedures for the food and beverage industry are supported by programmed methods and comprehensive programming options. With its multi-wavelength, spectral and kinetics measurements, this meter is suitable for mixed applications as well as research.