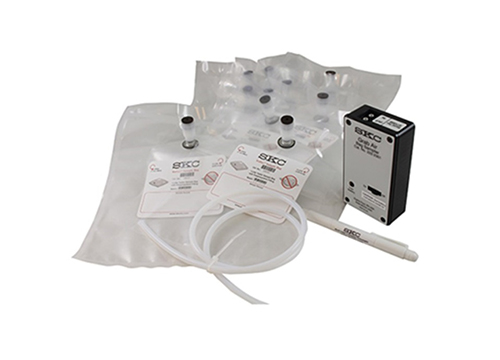 Environmental Air Sampling
SKC, the world leader in sampling technologies, produced its first sample bag in the late 1970s. The bag was made of Tedlar® film and soon became the classic sample bag for VOCs. Over the last 30 years, SKC Tedlar bags have been the number one choice of professionals for grab air sampling. However, SKC has also introduced newer high-performance materials, which provide new standards of performance for storage stability and background in bag sampling applications.
SKC manufactures its sample bags out of clean top-grade films including SamplePro FlexFilm, (SKC proprietary film), FlexFoil, FlexFoil PLUS, and FluoroFilm (FEP). Seams are strong, evenly sealed, and leak tested.
Fittings: SKC sample bag fittings are not "off-the-shelf" industrial fittings, but are designed specifically for air sampling. The fittings, offered in a choice of materials, feature an efficient design that combines the hose/valve and septum fitting into one lightweight fitting. Use only PTFE tubing for bag sampling to prevent sample loss through adsorption to the tubing's inner surface.
Tedlar:

Made of classic DuPont Tedlar film for sample integrity and valid data. It resists permeation both into and out of the bag, and is the classic bag for VOCs, being referenced in many EPA methods

SamplePro FlexFilm:

Good stability for a wide variety of VOCs and CO, CO2, methane and SF6.

Standard FlexFoil:

The only bag that effectively holds hydrogen sulphide (H2S) for 48 hours. Good stability for low molecular weight compounds such as CO, CO2, methane, hydrogen and SF6. Light and moisture-proof.

FlexFoil PLUS:

All the benefits of Standard FlexFoil plus detection and good storage stability for low ppm to high ppb VOCs.
For collecting samples of air in a standard and classic way.