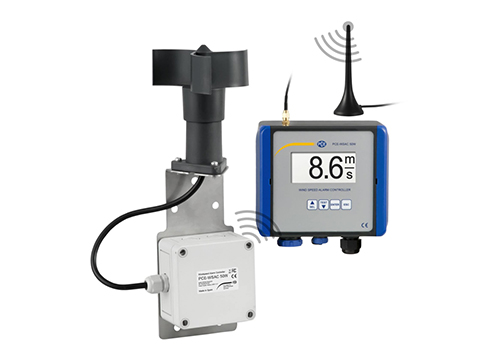 Wind Speed Alarm
Air Quality Meter is primarily used to measure and monitor the wind load on cranes or wind turbines. Furthermore, the wind situation can be measured and analyzed before commissioning a wind turbine. The air quality meter is equipped with alarm relay for a pre-alarm or main alarm.
Due to the high measuring range of up to 50 m / s of the air quality meter, stormy gusts can also be monitored. The radio range of the air quality meter is in the open field up to 750 m / 2500 ft in the free frequency band of 2.4 GHz. When installing the display of the air quality meter in buildings, a range of up to 60 m / 200 ft can be achieved for the wind sensor. Due to the integrated 4 ... 20-mA analogue output of the wind alarm display, the measured data can also be transferred to other controllers for evaluation.
Robust plastic housing
Units: km / h, mph, m / s
4 ... 20-mA analog output
128 x 64 pixel LC display
Alarm relay
Measuring range up to 180 km / h
Durable stainless steel ball bearings
Ambient temperature -20 ... 70°C / -4 ... 158°F
Radio transmission
Incl. ISO calibration certificate
Radio anemometer warning system
Wind monitoring on construction cranes, turbines etc.