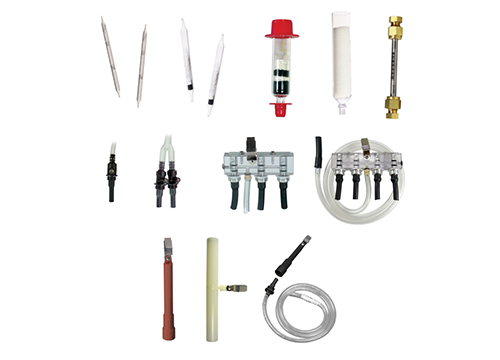 Personal Gas & Vapour Sampling Media
These media can be used with personal sampling pumps to monitor gases and vapours.
Sorbent Tubes for Solvent Extraction
SKC produced the first commercial sorbent tube for NIOSH in 1973. High sorbent quality and and reliability. Reproducible recoveries and low standard deviation.
Adsorbent materials: Silica Gel, Anasorb, Charcoal, Tenax, Chromosorb, PUF, Porapak, XAD, Carbopack X etc.
For: hydrocarbons, mercaptans, methanol, amines, inorganic acids, aldehyde, ammonia, organic vapours, aromatics, aliphatics, benzene, organochlorine pesticides, PCBs, PAHs, volatile nitriles, pesticides, explosives and glycols etc.
Adjustable Low Flow Tube Holders
These products enable a sampling pump to be used with up to 4 sorbent tubes at the same time, either the same tube type running at different flow rates, or with different tubes running at the same or different flow rates.

Protective Tube Covers

These protect the ends of the tube for storage and transit. Collar clips are attached for convenience.
Low Flow Tube Covers with a Non-Adjustable Tube Holder are also available.
To use with personal sampling pumps for monitoring exposure of workforce to chemicals at workplace.