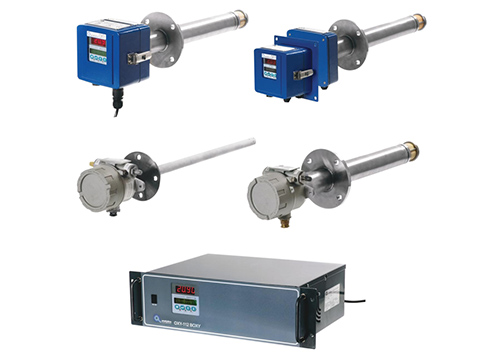 Zirconia Oxygen Analyzers
Designed for continuous measurement of oxygen in combustion and other industrial processes, as well as for reference values in emission measurements.
High quality zirconium sensors, reinforced platinum electrode layer.
Simple installation and operation - 4-key user interface controlling all functions.
Direct integration into the plant control system.
On-site service and maintenance - all parts can be replaced
Wide range of products, distinguished by performance and quality :
Low-temperature oxygen analyser - Combined Version: Control unit is integrated with probe. Easy & Low cost.
Low-temperature oxygen analyser - Separated Version: Up to 700oC. Reading displayed remotely.
High-temperature oxygen analyser (in-situ): Up to 1250oC. with Variety of probe lengths and protective covers.
Oxygen analyser certified for use in hazardous (in-situ) areas: Housed in a special protective cover that allows it to be installed in potentially explosive atmospheres.
Modular oxygen analyser (extractive): For continuous measurement of oxygen concentrations in exhaust gas emission centers. Designed for installation in a measuring cabinet.