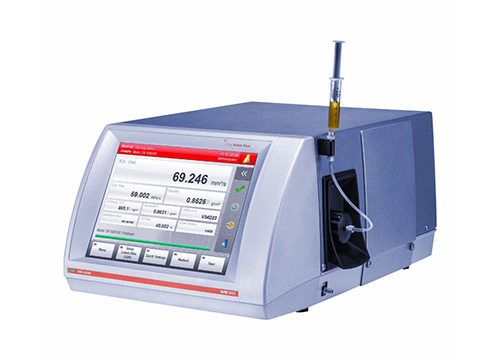 Kinematic Viscometer
Exchange all your capillaries for one single unit and save enormous amounts of time and money: the kinematic viscometers provide the highest flexibility by covering the entire viscosity, density, and temperature range with a single measurement cell and deliver results in seconds. With this instrument you can certify fuels (diesel, jet, marine, biofuel), lubricants, heavy fuels, crude oils, additives, in service oils, chemicals, waxes. Determine and classify the VI of your lubricant.
One instrument for all samples – from jet fuel to wax
Widest temperature range, from -60 °C to +135 °C
Cooling down to -20 °C without external counter-cooling
Rapid heating and cooling rates (up to +20 °C/min.)
Density measurements according to ASTM D4052
Quick temperature scan delivers information about the temperature behaviour of sample
FillingCheck™ detects bubbles caused by improper filling (as required by ASTM D4052)
Connectivity to LIMS and AP Connect for the paperless lab of the future.
Oil refineries
Petrochemicals
Automobiles