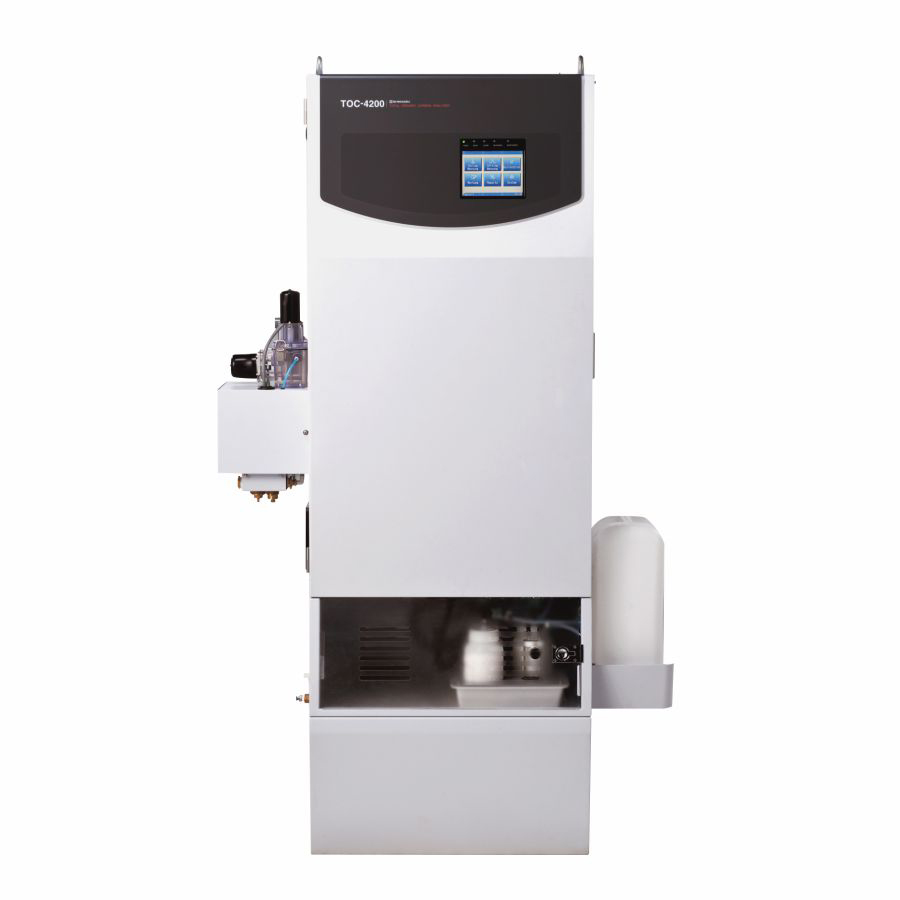 On-Line TOC / BOD / COD Analyzer (As per CPCB)
Highly advanced on-line TOC Analyzer excels in a wide range of applications:
The TOC-4200 is a high-performance on-line TOC analyzer, based on the proven 680°C Catalyst-aided Combustion technology. This established technology is featured in a large installed base of Shimadzu Total Organic Carbon Analyzers throughout the world, and has been applied to a broad field of industries.
High performance online TOC analyser using the establishes 680 degree celsius catalytic combustion and non-dispersive infrared detection method based on USEPA / ASTM methods
The analysis of TOC is a more rapid method for the determination of organic load and thus has the potential for better early warning and pollution control management.
TOC analyser is a practical alternative to COD/BOD for plant control, process management and monitoring of inflow and effluent flows in waste water treatment plant.
Management of influent and effluent water for waste water treatment
Management of various plant waters (i.e., washing, rinsing, cooling, circulating, boiler, condensate and other plant liquids)
Monitoring of drinking water (source water , in-process water ), highly processed water
Monitoring of surface water (river, lakes and streams etc)
Water quality monitoring for regulatory reporting
Support for New Means of Communications, Enhanced Data Handling
Compatible with digital bus standard
Control sample measurements
Web-based monitoring (option)
Support for a Wide Range of Samples
From pure water to heavily polluted water
Automatic dilution function
High-salt sample combustion tube kit
Permits TOC measurements that match the sample's characteristics
Range of pretreatment units to match a sample's characteristics
Reliable sample injection system
Low Maintenance, Low Running Costs
Carrier gas purification function as standard
N2 carrier set
Water pump control functions
Notification of replacement periods
Advanced Operability
Color LCD touch screen
Calendar
Interrupt measurements
Generous data storage capacity
Supports monitoring TOC removal rate based on EPA Regulations
Calculates TOC removal rate based on the United States EPA regulations
(Part IV 40 CFR Part 9, 141 and 142, 1998)
(when a 2- or more-stream switching option is provided)
Total pollutant load control regulation applications (organic pollution load)
Converting the measured TOC values allows applications to COD total volume control. (*1) TOC → COD conversion functions are installed as standard.
Reading flow rate signals from a flow meter (*2) permits COD load conversion calculations.
Wastewater treatment plant influent (upstream monitoring) and effluent
Measurements at a short measuring cycle (4 minutes minimum) rapidly capture dramatic changes in organic matter or abnormal effluent.
The powerful oxidation capacity of a combustion-type analyzer can detect organic matter that cannot be captured using a UV meter.
The short measuring cycle and powerful oxidation, combined with switching between up to six flow lines, offer detailed monitoring of treatment plants.
Monitoring of river water sampled at water purification plants and treated water (tap water)
Monitoring changes in river water quality due to rainfall and other factors to provide control indicators for treatment processes.
Permits simultaneous monitoring of treated tap water.
Plant water (washing water, cooling water, recovered water, boiler water, condensate, etc.)
Continuous monitoring of water used in a plant.
Continuous monitoring of pure boiler water assists in the detection of anomalies, such as damaged pipes.
The short measuring cycle (4 minutes minimum) of the combustion-type TOC analyzer achieves more rapid detection of anomalies