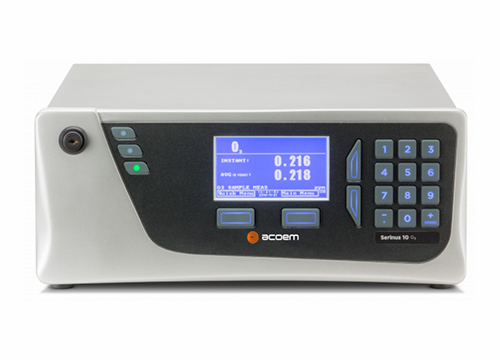 03 Analyzer
The Serinus® 10 Ozone (O3) analyser delivers precise and reliable performance at excellent value. It uses proven non-dispersive ultraviolet (UV) absorption technology to measure O3 in ambient air (LDL < 0.5 ppb, range 0 to 20 ppm).
The Serinus® range of analysers have been designed using our experience and knowledge gained from operating large air quality monitoring networks for more than 40 years. The result, instruments that integrate seamlessly into continuous monitoring networks.
Reliable performance complemented with a two year warranty
Minimise time spent on site performing maintenance through superior remote instrument control, diagnostic viewing and calibration
Comprehensive data logging and remote viewing of over 200 operational parameters
Versatile interfacing through RS232, USB, Bluetooth, analog and digital I/O and optional TCP/IP
Easy setup through an intuitive menu system, advanced GUI and a large alphanumeric keypad with tactile keys
Instant status indication via illuminated instrument status light buttons on the front panel
Removable flash memory stores ~10 years of data, including up to 12 individual parameters and event logs. Operational parameters can also be transferred to memory for easy retrieval
Latest firmware updates can easily be installed using the USB flash memory drive
Programming, viewing, downloading and emailing of data is made even simpler using Bluetooth connectivity combined with the ' Ecotech Serinus® 50 Remote' Android App
Built-in digital display measuring values and having function of measuring values transferred to graphical trend display
Enhanced operator safety through the use of 12 VDC internal voltages
Reduced cost of spare parts, accessories and consumable items through extensive use of standard components across the Serinus® 50 range
Rack slide design makes accessing internal components and removing the analyser from a rack cabinet easy
AQMS power usage can be reduced due to the instrument's low power demand and its ability to operate over a wide temperature range.
US EPA approval (EQOA–0809–187)
EN approval TÜV (0000040202-02)
EN approval MCERTS (MC100165/07)
Australian Standard (AS 3580.6.1-2011)
Russian approval (56053-13)
French approval LSCQA
Ukraine approval (12/3/B/24/295-17)
Korean approval NIER (AACMS-2017-03)