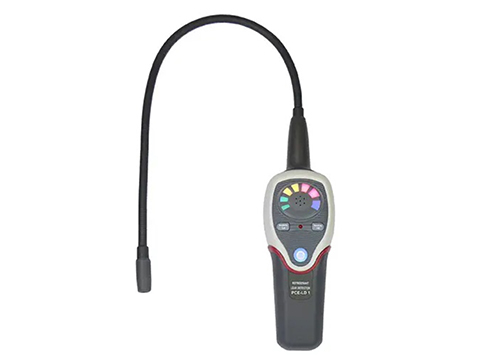 Refrigerant Gas Leak Detector
It is a portable handheld leak detector used to locate CFC/HFC refrigerant gas leaks. This highly sensitive leak detector can locate gas leaks from HVAC-R refrigeration systems even in areas contaminated by other gases. The gas sensor is located at the end of a 390 mm / 15.35 in flexible goose-neck tube, allowing unique access to hard-to-reach places.
Detects R-134a, R-404A, Freon R-407C, R-410A and R-22 (per EN 14624)
High / low sensitivity per SAE J1627 rating criteria
Audible and visual alarms
Easy to use
Tricolor LED indicator shows concentration of gas
For monitoring gas leaks in HVAC-R (heating, ventilation, air conditioning and refrigeration) systems in various industries.