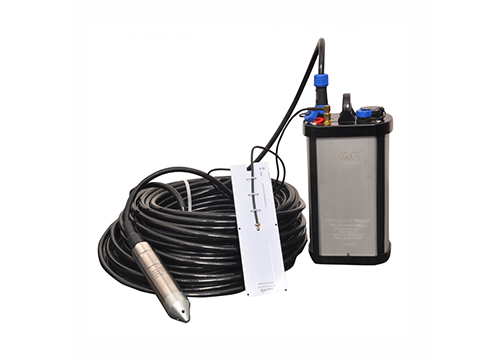 Digital Water Level Recorder (DWLR)
Digital Water Level Recorder (DWLR) is used to measure the level of ground water and surface water continuously on a real-time basis. It is supplied with battery, could work without manual control. The transmitter could record level or pressure change continuously. By setting proper data collection interval, the transmitter could record from several days to several years. Very low power consumption is another advantage
Model SLL99 was designed and developed by Swan under Make In India (MII) program. We are the leading suppliers of DWLRs in India with over 14,000+ No.s Installations and have supplied under NHP & ABHY projects as well. SLL99 measures with high accuracy, stability and durability.
Sensor Features:
Titanium / other Construction. Good automatic control
Fully sealed, submersible level transmitter with high accuracy.
Uses highly reliable & stable pressure sensor, intelligent processing circuit, precise digital temp. compensation & linearity correction tech.
The water-proof cable connects with sealed housing.
Integrated construction and standard output signal
Compact size, light weight and easy installation and operation
Datalogger and Telemetry Features:
With Inbuilt Telemetry Module for seamless data transfer
Forr remote data acquisition through GPRS or GSM protocol.
Data sent to a centralized data collection website.
Capture data in digital (RS485 MODBUS, RS 232) format.
Successfully deployed for varied applications such as Ground water level meters, weather data, river flow sensors, pollution data etc.
Widely used in Ground water resources, petroleum, chemical industry, power station, water conservancy, city flood control and city water supply and drainage, etc.