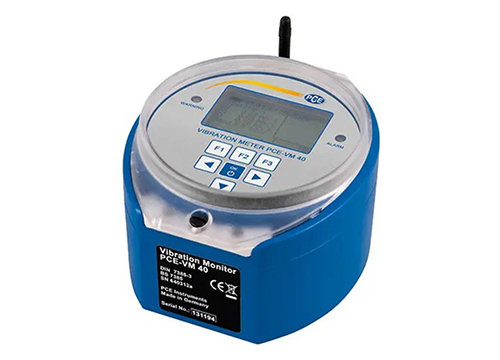 Building Vibration Meter
The Vibration Meter or Accelerometer was designed for vibration and shock metering on buildings, bridges, towers, and other artificial structures. The Accelerometer measures vibrations in accordance to DIN 4150-3, BS 7385 and SN 640312A standards. With its internal memory for up to 100,000 readings, it can determine the effects of construction sites, traffic, or industrial processing on buildings over a long period of time. You can choose between time-based and event-based recording, as well as between recording of short-time and long-time vibrations. It is also possible to set threshold levels which trigger an alarm signal when exceeded. With the built-in GSM module (optional), the device can send you SMS notifications once the alarm is triggered.
The Accelerometer is very easy to use and can be configured for different applications in no time. The measured data can easily be viewed on the integrated display of the device. Here you can see the vibration speed in all 3 directions. The Accelerometer has an integrated NiMH battery which makes it suited for mobile use on-site. Mains / AC adaptor for stationary use.
Triaxial acceleration meter
In accordance with BS 7385 standard
Integrated NiMH battery
FFT analysis, XYZ and vector sum display
SMS alarm notifications via GSM (optional)
Internal memory for up to 100,000 readings
Mains / AC adaptor
Easy to use
Threshold function
Buildings
Bridges
Towers
Construction sites
Traffic
Industrial processing on buildings
Other artificial structures