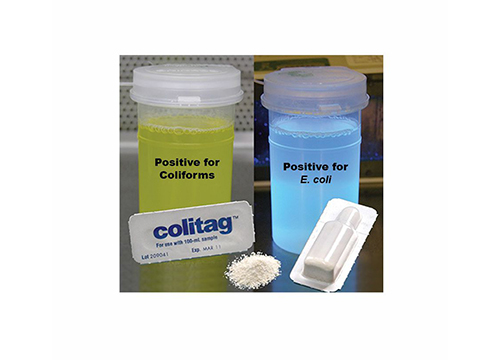 Rapid Total Coliform and E.Coli Detection
Colitag™ is the simplest and most flexible method for Total Coliforms and E.Coli Detection in water. It is US EPA approved 16-48 hour water quality test. Available in Presence/Absence and Most Probable Number (MPN) formats, for both qualitative and quantitative analysis. Colitag™ delivers fast, reliable and definite results in the field or the laboratory. Detects as few as 1 MPN of E. coli and other coliform bacteria in 100mL of water sample. Colitag's strength lies in its ease of use. The entire procedure involves only a few steps and can be done in less than one minute per sample
Rapid results in as little as 16 hours to a maximum of 48 hours
Use as either Presence/Absence (Qualitative) or Most Probable Number test format (Quantitative)
Most Probable Number (MPN) format as specified in Standard Method 9221 for compliance monitoring
Simple 3 step protocol suitable for field or laboratory use. Only one reagent is required to support the wide incubation window available.
Detects both MUG-negative and MUG-positive E. Coli in one test.
Includes built-in ability to detect E. coli using the reliable indole test.
Accurately gives positive and negative results with the vivid yellow and fluorescent indication. The unique formulation also leads in minimising false negatives, particularly for chlorinated samples.
Surface water testing
Drinking water testing
Pool water testing
Waste water testing