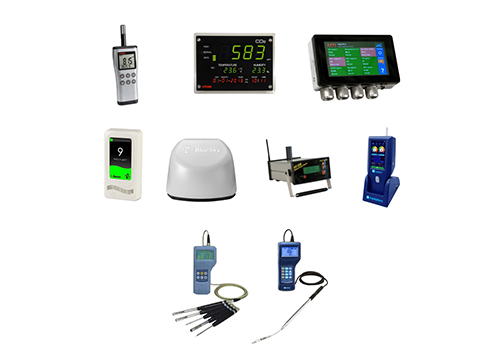 Indoor Air Quality Instruments
Various instruments are available to monitor the quality of indoor / closed spaces air. Handheld / Wall mount options also available. Particulate specific monitors are also available for a more detailed analysis.
Handheld IAQ Monitor
Inexpensive multimeter that simultaneously measures and records CO2, humidity and temperature.
It also calculates the dew point and wet bulb temperature.
Data can be downloaded, saved and analyzed.
Up to 40,000 data point memory
Large display with backlight
NDIR sensor with automatic calibration
CO2, RH & Temperature Display
Simultaneously measures and records CO2, Relative Humidity and Temperature.
Large, easy-to-read display
Can be configured directly with buttons and stored data can be exported to a USB stick for analysis.
Fixed / Portable IAQ Monitor
Detects: PM2.5 & PM10, Temperature, Relative Humidity, CO2, HCHO, TVOC's,CO, O3, SO2, NO, NO2, NH3, O2, H2S etc.
Easy to monitor all IAQ-Pro information at local area network via APP.
Connect with LCD display, Cloud computing
PM2.5 IAQ Monitor
Provides real-time and reliably accurate measurement of indoor PM2.5 dust concentrations, one of the greatest health risks in the world today.
Simple wall mount installation.
At-a-glance interpretation of data, correlates to the Air Quality Index.
Outdoor / Indoor Particulate Monitor
Lightweight, laser-based particle instrument.
Simultaneously outputs PM1, PM2.5, PM4, PM10 mass conc. ions as well as temperature and humidity.
Stream real-time data from cloud using WiFi.
Internally logs data at 15 min interval, for 2 weeks (SD card).
Portable Dust Monitor
Surveys dust levels for indoor and ambient air monitoring.
Use interchangeable size-selective impactors to sample for PM10, PM2.5, PM1.0, or ISO respirable (4.0 μm).
Sensing Range: 0.001 to 20.0 mg/m3
Innovative Handheld Particle Monitor
Displays 6 particle sizes simultaneously (0.3, 0.5, 1.0, 3.0, 5.0, 10.0μm) in cf or m3. Large, 4.3-inch full-color touchscreen.
0.3 micron minimum sensitivity. Store up to 10,000 measurements.
Compact and Light weight.
Remote control software. Control and monitor the instrument remotely through a PC.
Anemometers
Can simultaneously measure Air Velocity, Air Flow, Static Pressure, Temperature and Humidity of the indoor environment.
It is ideal for HVAC ventilation testing and balancing, laboratory control, fume hood performance testing, IAQ investigations, and industrial testing
Closed work spaces
Offices
Meeting rooms
Classrooms
Shopping centers
Fitness studios
HVAC etc.