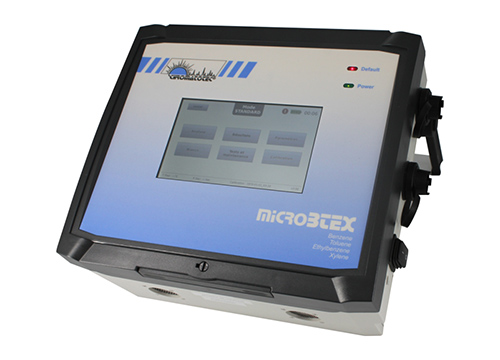 Portable VOC Analyzer
microVOC is a compact VOC analyzer which allows continuous and real-time qualification and quantification of Benzene, Toluene, Ethylbenzene, Xylene. Acrolein, Phenol and 1.3 Butadiene.
Compact size and low weight
Deployment in less than 5 minutes
Powered by mains or battery
Low consumption of carrier gas
Rapid calibration with gaseous BTEX mixture or only Toluene
Compatibilty with canisters and FLEC® System
Short time of analysis : 10 minutes
Detection limit lower than 1 ppb for benzene
Color touch screen with standard/expert users modes
Sequence programmation
Results in near real-time
Data logging for quality control
Innovation from CNRS & Strasbourg University
Patented microfluidic device
Supported by EU and innovation programs
Public building occupational exposure verification
Industrial hygiene measurement
Chamber test studies
Material emissions quantification
Building management
Concentration level continuous monitoring
Field Campaign etc.