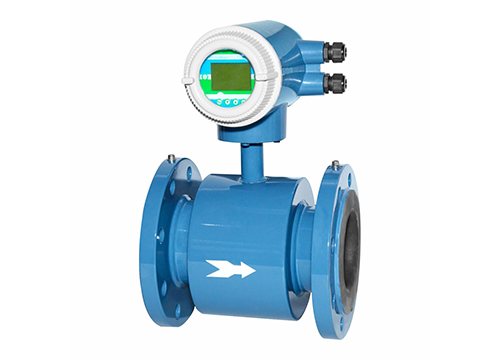 Electromagnetic Flow Meter
Intelligent Electromagnetic Flowmeter is designed and manufactured with advanced technology, featuring high accuracy, reliability, good stability and long service life. The product has backlight and wide temperature-ranged LCD display. With fully practical function, visual display, easy operation, it saves troubles for on-site installation operation and maintenance.
The electromagnetic flowmeter is an instrument for volume flux measurement. The flux measurement will not be influenced by the fluid density, viscosity, temperature, pressure and electrical conductivity changes. There is a linear relationship between the inducing voltage signal of sensor and the average velocity. Its accuracy is high.
Due to the unimpeded flow and no moving parts, it will not cause additional energy loss or jam. Therefore it is remarkable for energy saving, especially it is suitable for measurement of liquid-solid two-phase fluids such as sewage, slurry, pulp, coal slurry, pulp etc.
The electromagnetic flowmeter has no mechanical inertia. With good sensitivity, it can measure the transient pulsating flux, and has good linearity.
It has low requirements for installation. Short straight pipe is needed, generally 5D in front of the flowmeter, 3D behind it (D is the interior diameter of the selected instrument).
Only the lining and electrodes contact with the media, as long as the selection of electrode and lining materials is proper, they can be corrosion resistance and abrasive resistance, and are able to ensure long-term use.
When power supply is off suddenly, EEPROM can protect parameter setting and cumulative values.
The converter uses a low-power consumption single-chip for processing data. And it uses SMD electronic components and SMT surface mounting technology to ensure reliable performance, high accuracy, low power consumption and zero stability.
With dot matrix LCD display, it can display the integrated flux, transient flux, velocity, flow percentage and other parameters.
Multi-electrode structure ensures high accuracy. With the grounding electrode, it doesn't need grounding ring, therefore saves the cost.
The low-frequency rectangle wave excitation improves the flux stability. It has low power consumption and good low flow characteristics.
Bidirectional measurement system can be used for measuring forward flux and reverse flux.
It can be widely used in industrial fields such as petroleum, chemical, metallurgy, water supply and drainage, steel, coal, paper, food, textile, environmental protection and other municipal administration, water conservancy construction field etc.