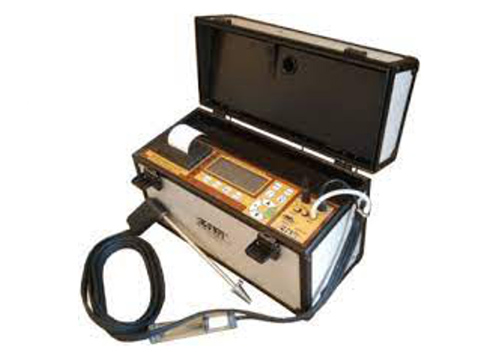 Portable Stack Gas Analyser - 4 Sensors
The IMR 1400CP is a portable Flue Gas Analyzer for commercial and industrial applications. The rugged combustion analyzer can be equipped with up to 4 sensors. Its basic unit has an O2 (Oxygen) and a CO (Carbon Monoxide) sensor. The other two sensors are customer select-able as well as the measuring ranges. The IMR 1400CP measures and calculates all the needed parameters to perform a thorough combustion test.
The IMR 1400CP is a portable, continuous measuring flue gas analysis instrument housed in an aluminum case.
It measures flue gas temperature, air temperature, Oxygen O2, Carbon monoxide CO.
It can optionally measure Nitric Oxide NO, Nitrogen Dioxide NO2, Sulfur Dioxide SO2 and/or Hydrocarbons HC.
Combustible calculations like Losses, Excess Air, Combustion Efficiency and Carbon dioxide CO2 are standard as well as the measurements for Draft and Soot.
Simultaneous display of eight measured parameters on the illuminated LCD.
Integrated thermal printer and RS232/USB interface.
Measurement printout or service printout, both include date,time and fuel type.
Engineering units like ppm,mg,mg/kWh,mg(ref.O2) units are selectable.
Automatic and manual CO-bypass.
Memory for 220 measurements.
Case with additional space for spare parts.
Combustion and emission control research
Certification of Continuous Emission Monitoring System (CEMS),
Combustion efficiency monitoring for various industrial furnaces or refuse incinerator and boiler.