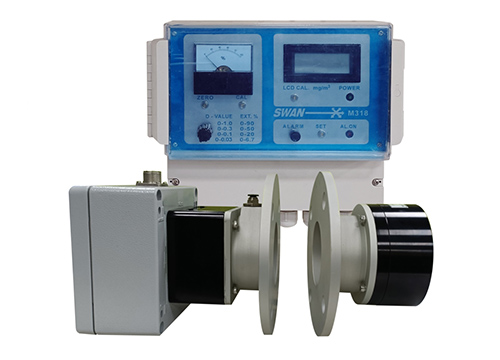 TUV (India) Certified Double Pass Laser Dust Monitor
The dust monitor is TUV certified, based on double pass principle, equipped with a semiconductor laser. It is excellent for measuring from medium to long distances (0.5m - 10m).
Principle of Operation: The measuring system is based on the Double Pass Transmissometry principle. The light beam crosses the measuring section twice and the trans-receiver unit measures and evaluates the light beam's weakening caused by the dust content. The optical value will be shown as optical density on analogue display and optical density related to mass value on digital display. Manual calibration check can be done using optical filter.
Advantages of using a Laser Light Source
Measuring path from 0.5m to 10m possible, due to a narrow and intense laser light beam.
Excellent beam collimation (0.04°) - no need to use lenses or mirrors in the transmitter making the system reliable and simple.
Standard wavelength guarantees long-term accuracy and stability.
The analyzer can be transferred to another location without factory calibration.
The alignment of the beam is easy because the beam is narrow.