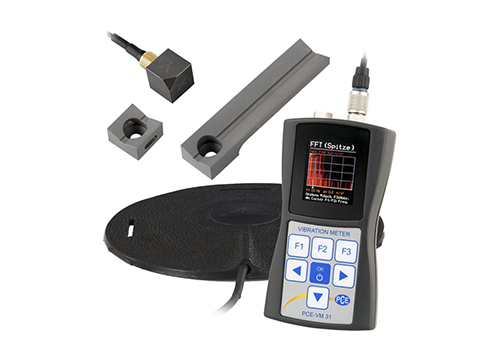 Standard Human Vibration Meter
The Human Vibration Meter is designed for measuring human vibration at the workplace. The Vibration Meter can calculate hand-arm vibration measurements according to ISO 5349 and whole-body vibration measurements according to ISO 2631. In addition to human vibration measurements, the Vibration Meter or Vibration Analyzer can measure the vibrations of machines.
The Vibration Analyzer also supports TEDS, which means that it can detect and identify TEDS-capable sensors automatically. Overall, the device comes with 4 independent measuring channels. The measured data can be displayed as interval, running or maximum RMS (MTVV), as well as estimated vibration dose value (eVDV), vector sum, peak, and maximum peak. The acceleration can also be displayed as FTT with up to 125 lines. The internal flash memory of the Vibration Analyzer can store up to 10,000 measurements or up to 1,000 FTTs, each with date, time, and a comment. The measured data can also be transferred to a PC via the USB 2.0 interface.
For tri-axial measurement (Xh, Yh and Zh axes) of hand-arm and whole-body human vibration
For hand-arm vibration syndrome (HAVS) and carpal tunnel syndrome risk assessment, measuring exposure action values (EAVs) and exposure limited values (ELVs), and regulation compliance
Velocity, acceleration, displacement
3 channel FFT
TEDS support
Flash memory for up to 10,000 readings
USB interface
Compact design
Easy to use - ISO 8041 calibration certificate option available
Construction
Mining & Quarrying