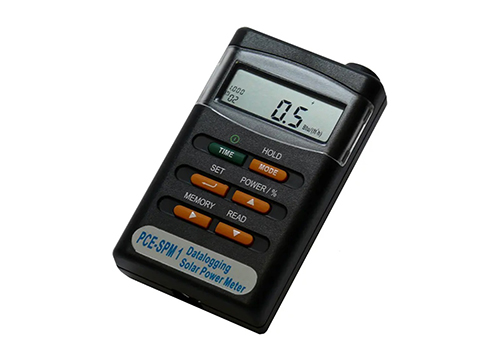 Solar Radiation Meter
The solar radiation detector for solar energy is the optimal hand - testing device for solar engineers, architects and hobby solar installers. With this solar meter you determine the solar power. This makes it possible to make a statement about the composition and design of a photovoltaic system. The light intensity is measured using a monocrystalline silicon solar cell. The processor integrated in the solar measuring device ensures automatic correction to maintain the basic accuracy after the calibration of each device in the solar simulator. The most important parameter P tot (in W/m²) can be read directly on the display.
The data contained in the internal memory (32,000 measured values) can be transferred to the serial interface of a PC using the software. This solar measuring device was also designed for outdoor use and has a weather-resistant plastic housing. Its compact dimensions allow convenient one-hand operation.
The solar radiation detector detects the full solar radiation, i.e. both the direct radiation and the diffuse solar radiation of the atmosphere. Most of the energy from the sun's rays that reflects off the surface of the earth is in the infrared-visible band of the spectrum because the ultraviolet radiation is absorbed by the atmosphere. Solar radiation varies throughout the year because the angle of the incoming light rays is greater in summer than in winter and the rays are more perpendicular in summer.
Enables on-site measurement of the solar power yield / irradiation P tot
Enables long-term measurement via the internal memory (32,000)
Transmission and evaluation software included
Enables comparative solar measurement
Min, max and data hold function
Powered by 4 Li-ion batteries (service life approx. 16 days with continuous use)
Determines the energy yield of solar systems
Serves to find optimal solar locations for new systems