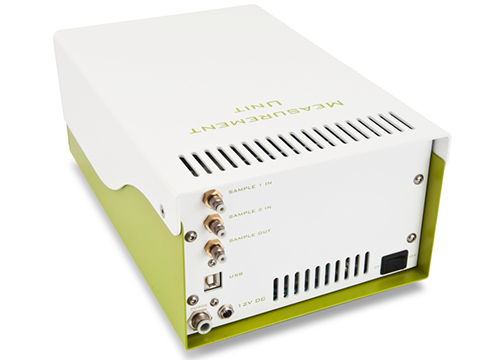 Trace Gas (SF 6, CFC, PFC, ETO) Analyzer
It is a stand-alone photoacoustic multi-gas measurement unit that can be easily integrated as part of a monitoring system. It is configured based on the specific needs and requirements by the customer's application and it will be integrated in to the customer's measurement system.
Anesthetics: desflurane, enflurane, isoflurane, sevoflurane etc.
CFCs and PFCs: CF4, C2F6, R13 , R-134a etc.
Corrosives (at low levels): HCl, HCN, HF
Hydrocarbons: CH4, C2H2, C2H4, C2H6 etc.
Inorganics: CO, CO2, H2O, H2S, NO, NO2, N2O, NF3, NH3, SF6, SO2
VOCs: acetone, benzene, ethanol, formaldehyde, methanol, toluene, xylenes etc.
Based on patented photoacoustic spectroscopy with cantilever enhanced optical microphone
Configurable to several applications
Simultaneous analysis of up to 50 gases depending on configuration
Typically Low or sub-ppb detection limits
High selectivity
Low sample volume and wide dynamic range
Long re-calibration period
Automatic compensation for temperature and pressure fluctuations.
Dissolved Gas Analysis (DGA)
Animal husbandry
Border security
Fenceline monitoring
Indoor air quality and occupational safety
Ship emissions monitoring
Soil analysis
Waste anesthetic gases
Trace Gas (SF6 / CFC / PFC / ETO) Analyzer
Photocatalysis research
Clean room monitoring